Travel is one of those experiences that enriches our lives in ways often not fully realized until illuminated by that moment…
months or even years later when in an instant the soul intersects the fragile synapses of the mind sparking an…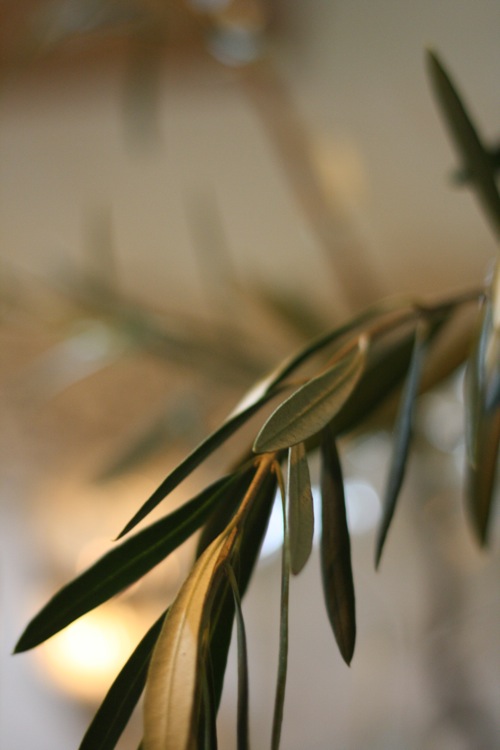 Epiphany…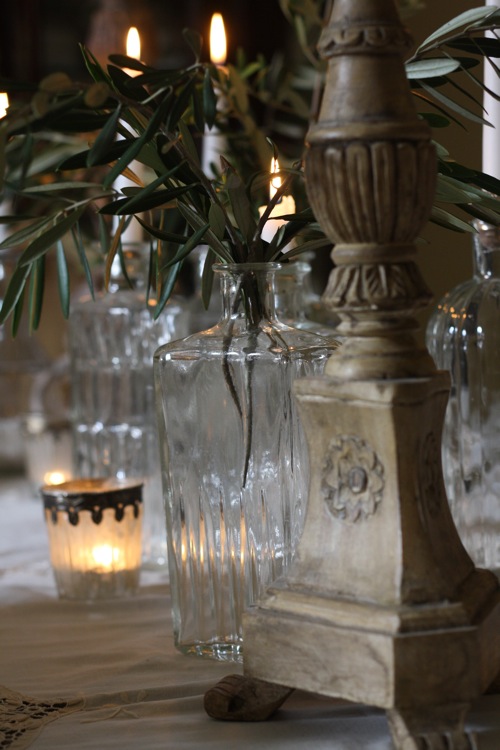 nothing groundbreaking in an Isaac Newton sort of way, but something so personal that it calms and provides refuge from a day to day existence that is often far too cluttered with the stress and complexities of our modern lives…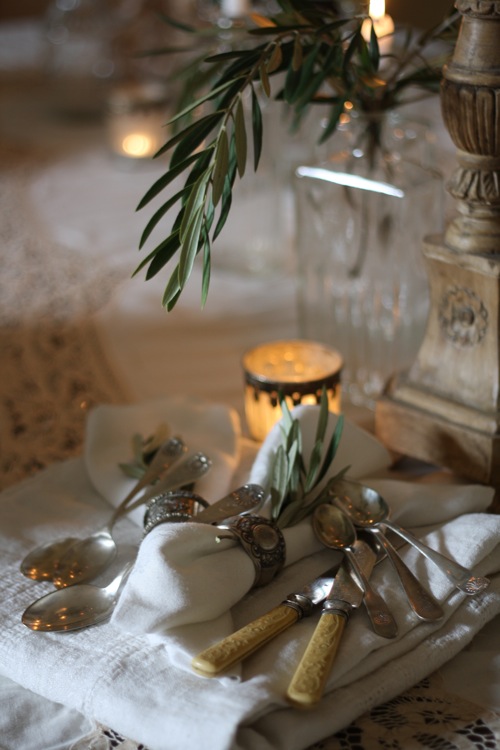 Several years ago I found myself in a small cottage in the Tuscan countryside…a charming little abode part of a greater property with a fantastic Villa and acres of olive trees and vineyards.  One of my daughters and her friend met me there on break from an extensive study abroad program that took them to Greece and Turkey and where they had lived in hotels for four months. They had yet another leg of their study journey ahead and I was determined (and they were begging) to have nourishing family-style dinners every night of our stay in Tuscany.  At first glance, my little Tuscan kitchen seemed ill equipped for pulling off such a fete.  And our tiny village had only a small market for basic groceries and local produce. Yet another obstacle was proper presentation as I wanted these meals to not only taste amazing but to look amazing.
I'll cut the story short by telling you that we did indeed have the most fabulous tasting (and looking) family dinners each night…improvising with ingredients, kitchen/cookware, and table top decor…an assortment of neck scarfs  became a table cloth, an old jug was cast as a vase which we filled  with.olive branches and surrounded with blood oranges from the property.  After each Tuscan supper, we were giddy with delight at pulling off these nightly productions with the simplest of elements.   While I could not yet articulate it, the seeds were planted for future realization of the
Abundance in Simplicity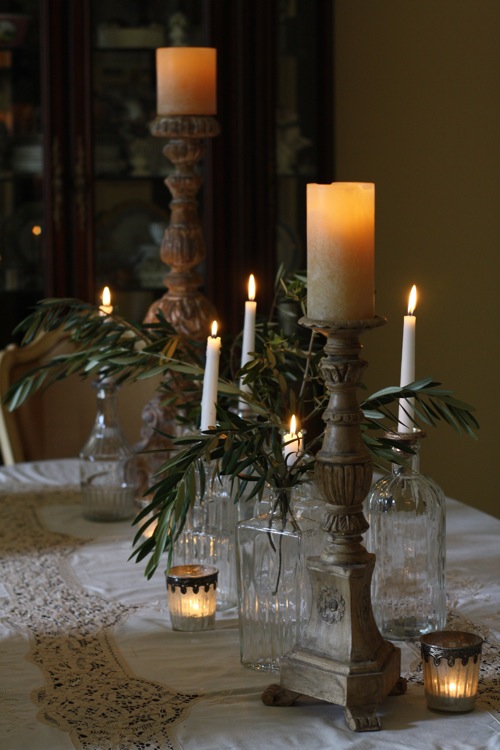 As I contemplate what form my Thanksgiving table will take this year, my personal epiphany has been that there is such great abundance in simplicity…simplicity that allows us to spend more time with those we love rather than tending to elaborate decorations and preparing food in grand feasting proportions…it seems contradictory, but this realization shifts focus allowing contemplation and appreciation for an abundance that has nothing to do with the physical trappings of celebration or of our lives in general.
An RH candle stick leads the meandering procession of orphaned vintage and antique bottles that once held a variety of spirits…now filled with olive branches and basic white candles.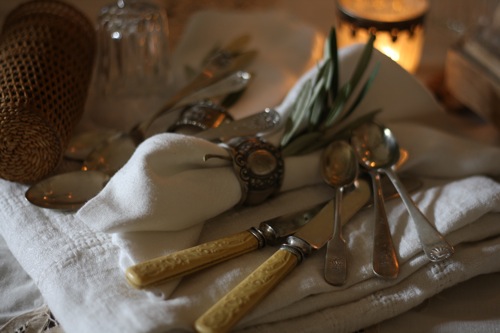 crumpled linens and a curated collection of mismatched flatware…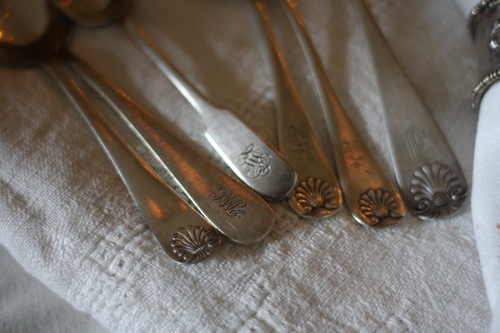 with timeworn monograms and simple shell motifs…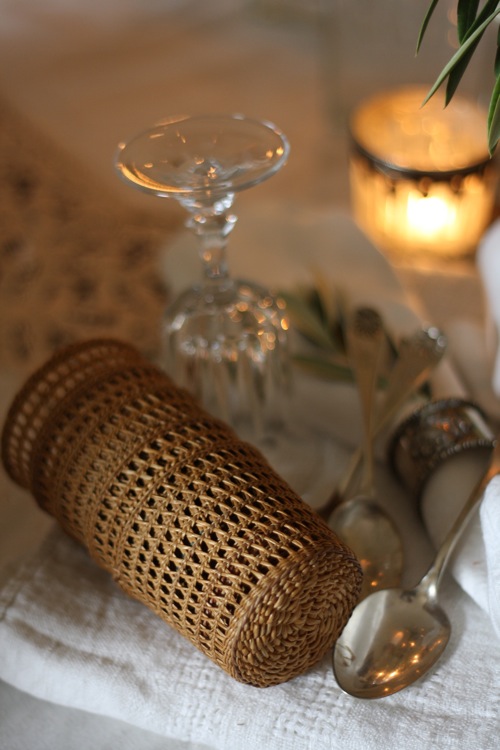 natural textures…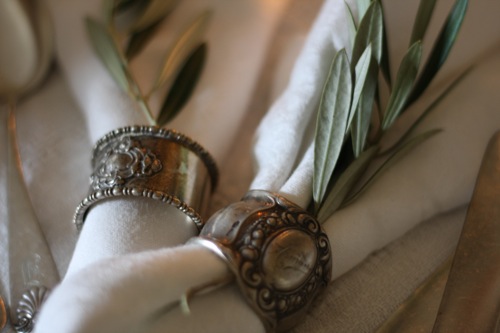 humble flourishes from our olive trees…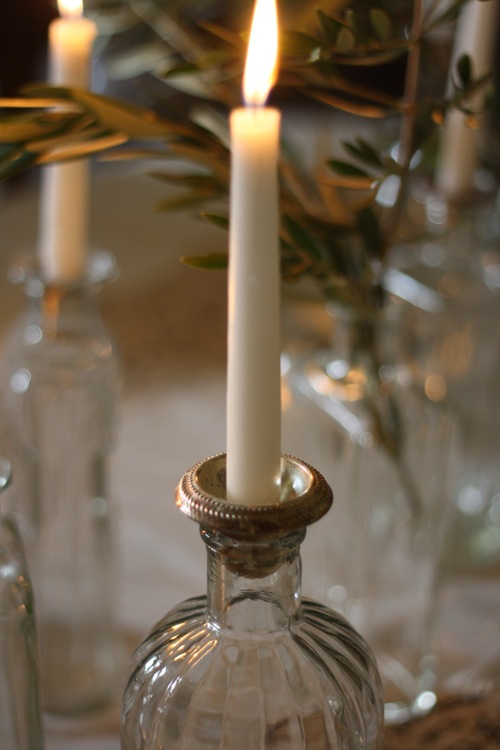 the metaphysical magic of candle glow…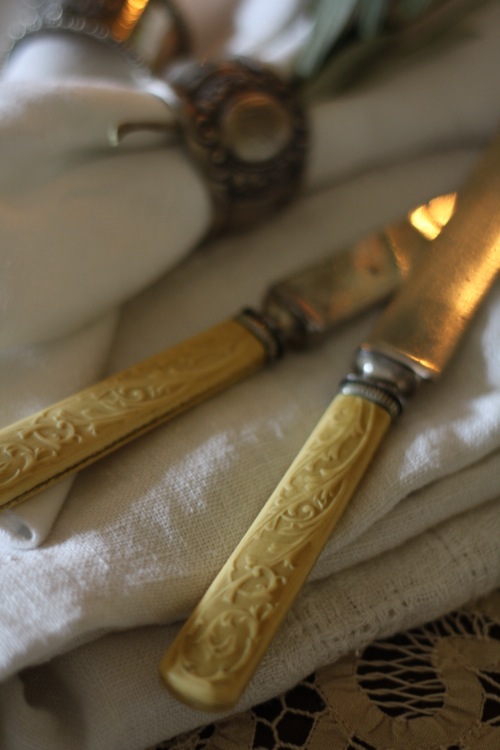 and reflection…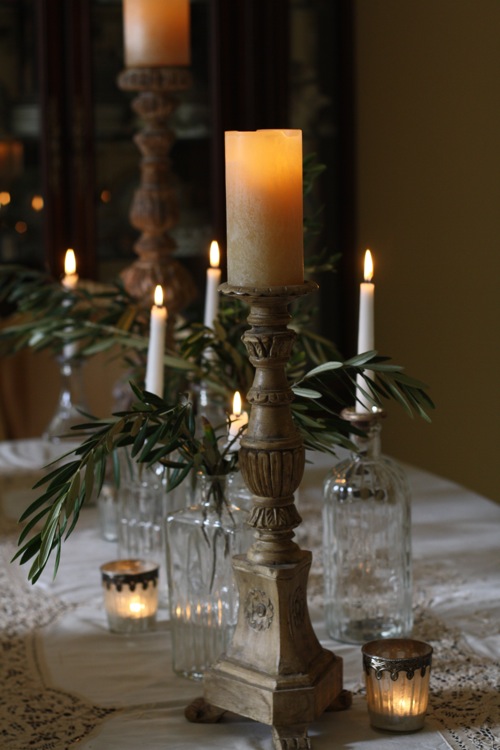 Nothing fussy about this table…it is warm and welcoming however out of step with traditional notions of the well dressed Thanksgiving table…there is an abundance of calm that flows from the celebration of simplicity with a pared down decor of
soft, neutral colors…
natural textures…
classic forms…
and suffused light…
it is a peaceful realization that less can actually be more…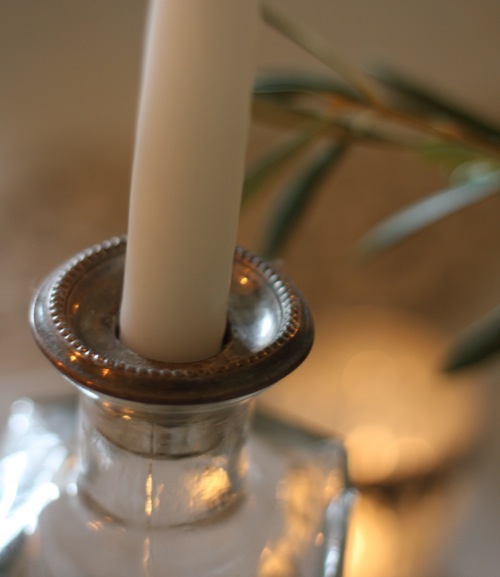 for those who come to embrace the 
Abundance in Simplicity.